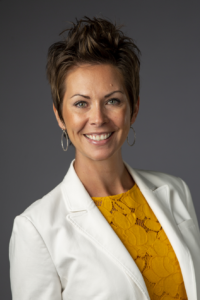 As a Clay County native, Erin is passionate about helping members of her community, and beyond, plan for all financial stages of life. Whether it is starting college savings for children and grandchildren, buying a new home, accumulating retirement assets, or transitioning into retirement, Erin can provide relevant insight regarding these important milestones. Navigating the complexities of transitioning into retirement and living the dream of retirement takes careful planning. Our goal is to create a financial plan that reflects and complements your lifestyle while utilizing strategies for required minimum distributions, ever-changing social security rules, and beyond.
Erin excels at truly listening to her clients. She takes the time to understand the hopes and fears they have concerning their money, and then creates a sustainable plan for their unique financial stage. How we save and how we spend money are fundamentally important to ensuring a successful retirement.
After graduating Cum Laude from the University of North Florida in 2006 with a Bachelor of Arts degree in English, minor in Education, Erin became a teacher for the Clay County School Board for six years, the last, of which, she was awarded the honor of Teacher of the Year. Choosing to utilize her passion for education and finance within a new arena, Erin joined Family Wealth Advisors in 2013, attaining FINRA Series 7 and 66 licenses, as well as a Florida Life, Health, and Variable Annuity license (2-15).
Erin is proud to provide continuity to her clients throughout their retirement years. In her spare time, she strives to spend as much time as possible with her husband and two growing boys in the great outdoors.
Please complete our electronic form to contact Erin today for you complimentary consultation, and we will respond in a timely manner. For immediate assistance, please contact our office directly or visit our website at www.FamilyWealthAdvisorsOP.com.
This communication is strictly intended for the individuals residing in the sates of FL, GA, IL, LA, MA, MD, MS, NC, ND, NJ, NM, NV, NY, TN, VA, and WA. No offers may be made or accepted from any resident outside the specific states referenced.
1400 Prudential Drive, Suite 4
Jacksonville, FL 32207
Ph: 904-379-3386
Fax: 904-309-9062
**********
1027 South 8th Street
Fernandina Beach, FL 32034
Ph: 904-432-8062
Fax: 904-432-8636