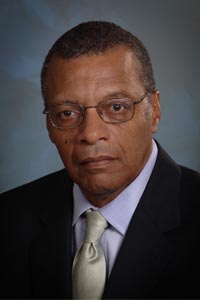 "My Clients deserve the very best each and every day. Personalized Customer Service, Individualized Portfolio Design, Wealth and Risk Management, and, Accessibility are what my clients receive. My primary goal as Financial Advisor is to successfully meet my client's financial needs and consistently earn their confidence."
Bill is an independent financial advisor with Family Wealth Advisors. He has spent the better part of 40 years in the financial services industry in the employ of both large US based banking institutions as well as small overseas investment banks where, as Managing Director, he oversaw the provision of advisory services to Foreign Governments and International Corporations. Bill also served as CEO and Managing Director of a Ghanaian Telecommunications Company which he helped to privatize. He has held various in-country management assignments in South America, the Caribbean, Europe and Africa.
Bill currently holds FINRA Series 7, 66, and 31 Licenses along with Licenses for Life, Health, and Variable Annuities. He is licensed to provide these services in 6 states. Bill also holds the designation of AIF (Accredited Investment Fiduciary).
Bill is a native New Yorker. He graduated from Cardinal Hayes High School and attended Pace College in New York, and received an Advanced Management Certificate in International Finance from William College, MA.
Bill is actively involved in community affairs. He is a former board member of the Amelia Island Museum of History, serves on the Board of Arts Alive Nassau, and sings with the Island Chamber Singers.
Please complete our electronic form to contact Bill today for your complimentary consultation, and we will respond in a timely manner. For immediate assistance, please contact our office directly.
1400 Prudential Drive,  Suite 4
Jacksonville, FL  32207
Ph: 904-379-3386
Fax: 904-309-9062
Map and Directions
1027 South 8th Street
Fernandina Beach, FL 32034
Ph: 904-432-8062
Fax: 904-432-8636
Map and Directions
This communication is strictly intended for the individuals residing in the sates of CA, FL, GA, IL, LA, MA, ME, MD, MS, NC, ND, NJ, NM, NV, NY, TN, TX, and VA. No offers may be made or accepted from any resident outside the specific states referenced.
1400 Prudential Drive, Suite 4
Jacksonville, FL 32207
Ph: 904-379-3386
Fax: 904-309-9062
**********
1027 South 8th Street
Fernandina Beach, FL 32034
Ph: 904-432-8062
Fax: 904-432-8636